MSA Meds Offers Total MSP Compliance Solutions
In 1980, The Medicare Secondary Payer Act (MSP) was enacted by Congress to reduce spending and preserve the fiscal integrity of the Medicare program. The MSP provides that Medicare may not make a payment where "payment has been made or can reasonably be expected to be made under a Workers' Compensation law or plan … or under an automobile or Liability insurance policy or plan (including a self-insured plan) or under no-fault insurance".
Medicare Secondary Payer Act Compliance is a multi-step process:
Medicare's past interests must be protected by properly reporting the case to Medicare and resolving any lien issues. To learn more about Section 111 Reporting and COBC Lien Resolution, click here.
Medicare's future interests must also be protected. The tool most often used to protect Medicare's future interest is a MSA. To learn more about MSAs, click here.
Funds from the MSA Account must be spent according to Medicare's strict rules. To learn more about Professional Administration, click here.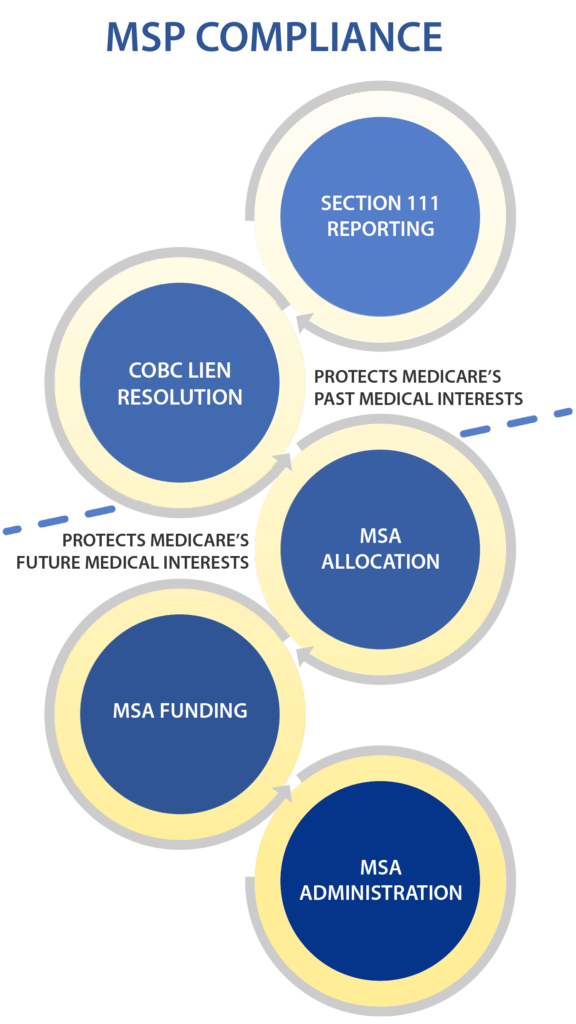 Our MSP Compliance Services
Professional MSA Account Administration
To ensure Medicare will pay for your injury-related medical costs once your MSA account is depleted, MSA Meds will provide the following Medicare Secondary Payer compliance services:
Hold funds in an interest-bearing account at a major banking institution
Reprice medical bills according to CMS regulations
Research all Medicare coverage issues regarding services and medications
Comply with all of Medicare's record-keeping and reporting requirements
Keep fully insured and bonded

Medical Record Review & Report
For cases where the Insurance Carrier has hired a Vendor to prepare the MSA Allocation, we will review the allocation and provide a report showing any omissions and/or deficiencies in pricing and allocation
For cases where submission to CMS is not required, we will help you document your file appropriately by partnering with an allocation expert to prepare a future cost projection considering all relevant factors involved in valuing the case
MSA Allocation and Submission
If a full submission to CMS is required, MSA Meds partners with allocation experts to:
Obtain all needed release forms
Verify all entitlement information
Retrieve and submit medical records & bill payment history for the last 2 years
Conduct a rated age life expectancy, if necessary
Prepare an allocation of the projected future medical treatment
Submit the MSA allocation to CMS
COBC Lien Negotiation 
MSA Meds partners with lien experts to negotiate COBC Liens effectively, including: 
Reporting of claims to Medicare
Obtaining and reviewing the conditional payment summary
Negotiating the COBC lien
 Structured Settlement Services
MSA Meds can help with structured settlements, including:
Coordination with a structured settlement broker to fund the MSA Account according to Medicare's requirements
Establishment and funding of accounts to provide for non-Medicare covered future medical expenses
Special Needs Trust
MSA Meds can help those who need a special needs trust by:
Working with a special needs trust provider to ensure that Medicaid and other government benefits are protected during the MSA process
Coordinating the administration of both a special needs trust and MSA account
Why choose MSA Meds?
MSA Meds advocates for injured workers! Unlike our competitors, we do not offer the Insurance Carriers any back-end deals in exchange for referrals. Our loyalty remains with your clients. MSA Meds will even review the MSA proposal prepared by the Carrier's Vendor and tell you what services and/or medicines were underpriced.  We also provide an accurate cost projection of the non-Medicare covered items.  Our goal is to ensure that your clients receive the future medical care they need, while at the same time protecting their future Medicare eligibility.
Because our service is free, the Insurance Carrier does not need to pay any fees if your client retains our services.  Additionally, CMS allows your clients to choose their administrators. If the Carrier is insisting on spending their funds to hire a different administrator, ask yourself why and what does the Carrier stand to gain. You would not trust your clients' treatment in the hands of the Insurance Carrier's doctor, so do not trust decisions regarding your client's treatment to the Insurance Carrier's administrator!
Contact Us
Many attorneys ensure the case is properly reported, that liens are satisfied, and that the MSA is allocated and funded, but fail to secure Professional Administration.  This leaves their clients responsible for navigating Medicare's complicated administration rules on their own; a task many attorneys would have difficulty completing. MSA Meds' free program allows Professional Administration even in smaller cases. Don't jeopardize your clients' future Medicare benefits, contact MSA Meds for complete MSP compliance assistance today!